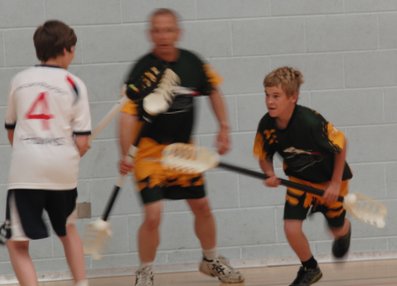 Easi were one of the first VX clubs to be established in the early days of the sport in 2006. Now, several years later Easi are the benchmark by which other clubs are measured. With an enviable record of titles, Easi also has a great track record in getting individual players to international representation and also of players winning titles in individual competition
More info below
We are one of the most successful clubs in the country - but we urgently need help, both in terms of volunteers and sponsors.
Can you help?
Could you be a sponsor?
VX? It's Easi!
What is VX? Only the fastest-growing sport on the planet! A new and innovative sport launched in 2006 it has now spread to 24 countries of which 14 already have National Governing Bodies. Described by the Americans as 'Dodgeball on steroids' it is a mix of pelota, dodgeball , lacrosse and hockey. Played on an equal footing by males and females it is a fast but very inclusive sport.
What to say about Easi? We started in the very early days of the sport and since then have gone from strength to strength. Right from the start we put two teams into the league. HellCats took the sport by storm, going two seasons with 100% record! Then, as players went off to university we had to rebuild and for a season we just had one team competing in the league. And then we had the new HellCats team under the superb leadership of Sara Cooper. This team equalled and exceeded the achievements of the previous HellCats. As they grew and developed they got better and better and in the 2012-2013 season they lost only one match on their way to an unprecedented clean sweep winning the Regional Title, the National Title, the National Knockout and the UK Club Championships.
We are again rebuilding so are now only putting one team in the League - we look forward to being able to field two teams again next year as the club is growing again.
We also have a thriving Juniors section with our Juniors competing in the Doubles tournament that runs alongside the National Knockout in July. We 're also working to get them some friendly fixtures lined up...
Easi has a wide age -range and a good mix of male and female players.
VX is such a young sport there are lots of opportunities to make your mark. Why not come along and see what it is all about?
COMMITTEE
Paul Hildreth - Chairman and Head Coach
Maggie Hildreth - Treasurer &
Karen Bruin - Secretary & Assistant Coach
Caroline Porter & Assistant Junior Coach
Liza Dundon
SENIOR TEAMS
Coaches
Paul Hildreth (Head Coach)
Tom Hildreth (Ripon Head Coach - assists)
Matty Carr (Assistant Coach, Level 2)
Karen Bruin (Assistant Coach, Level 1)
Léna Fowles (Assistant Coach - Seniors, Level 1)
Caroline Porter (Assistant Coach - Juniors. Level 1)
HELLCATS
Karen Bruin
Lena Fowles
Paul Hildreth
Ellie Bowman
Miles Cottrell
Ricky Gibson
Josh Gibson
HELLDIVERS & HELLFIGHTERS
We are not putting a HellDivers or HellFighters team in the currentLeague. However we now have a number of Juniors moving up to the senior sessions so hope to be able to field two teams again in the future.