2020
June 2020
Following submission of our SOPs, VX has been classified as a medium-risk activity as regards Covid-19. We look forward to being given the go-ahead to start sessions again
June 2020
VX Uganda has submitted the activity calendar for the financial year 2020-2021 to the National Council for Sports
June 2020
Vx Uganda association has issued standard operating procedures (SOPs) to all vx club members , players, and staff. As we prepare to reopen trainings.
May 2020
Following the NCS communication to all sports federations on Standard Operating Procedures (SOPs) for Covid-19 intervention, VX Uganda has submitted documents for consideration.
VX Uganda has considered budget adjustments to cater for SOPs in our workplan.
VX Uganda has introduced VX Sport for Health 5 years programme, aimed at advocating for SOPs through mental and physical wellbeing in all VX Clubs, staff and vulnerable community
VX Uganda intends uising sport to promote physical and mental wellbeing in Uganda.
May 2020
Our President, Mr Dickson Niwagaba, attended the zoom meeting with NCS on sports development in Uganda. 90 participants shared that day. We are delighted that VX has its voice heard at this level
May 2020
VX Uganda submits our Contribution to the draft funding policy for NCS Uganda.
March 2020
Due to the Covid-19 pandemic all VX training has been suspended
March 2020
We are delighted to announce that Mr Isaac Ssekamwa has agreed to be the patron of VX Uganda. Isaac is Director of Canaan High School in Lugazi and also of Sport Aid Network
March 2020
We had some excellent meetings with Paul both in Lugazi and in Kampala. Paul qualified some more coaches based in Lugazi and introduced VX to more schools in the area.
January 2020
We are delighted to report that the head of Global VX will be returning to Uganda in March.
January 2020
We are very sorry to announce that the CEO of VX Uganda, Hasindihe James, has left the post with immediate effect. We thank James for all he did in the past for VX Uganda and all he did to help grow the sport in Uganda. We congratulate him on the ranking of 4th that he achieved in the 2018 V2 World Cup and wish him all the best for the future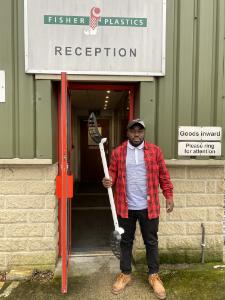 2019
December 2019
We are delighted to report that the Head Coach of the Ugandan National VX squad, Didus Businghe, had a successful visit to the UK where he was welcomed by the Easi-RockIts VX Club and was also taken to visit the factory where the VstiX are manufactured.
October 2019
We had very good meetings in Mumias Kenya with Global VX and the new VX Kenya and look forward to working closely with VX Kenya as we move forward to help grow this sport in Africa
September 2019
We are looking forward very much to welcoming the head of Global VX, Dr Paul Hildreth, on his visit next month. Dr Hildreth will be visiting Kenya to help establish the NGB in Kenya and then will cross over to Uganda where he will be based at Canaan High School in Lufgazi. We will be having meetings with him in Kenya, Lugazi and Kampala