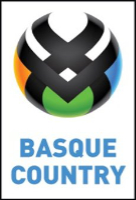 Welcome to the website of VX Basque Country
We are based in Bilbao and administer the sport of VX in the Basque Country.
We have regular matches and are very proud to have twice hosted the VX European Championships

THE BEGINNING ...
On Saturday the 10th October 2015 the Commissioner of Global VX Mr Craig Buttery and directors of VX International Dr Paul Hildreth and Mr Stirling Harpur visited Bilbao to show us how to play the sport of VX.
We met at Olabeaga where there is a "fronton" this is a special court where handball and pilota is played. Once we had introduced everyone the team from Global VX showed us the basics of VX and in no time we were playing games.
What was interesting was that people stopped and watched what we were doing and asked if they could join in.
The rules were so easy to learn and once we had played some warm up games we split everyone into teams and played the first Basque Country tournament
The three teams were Bizkaitarrak (people from Bizcay), Basurdeak ( Boards) and Arranoak (Eagles).
It was fantastic to see people enjoying themselves so much and with big smiles on ther face but with the games very competitive.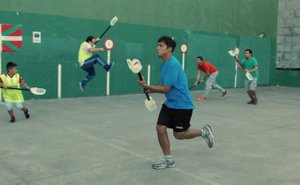 We are now an officially recognised organisation with the International Governing Body and we look forward to developing VX in the Basque Region.
The great news is that we will be meeting regularly to play matches